Dubai - Creative Retreat Workshop - 2 days
$

550.00 Sold Out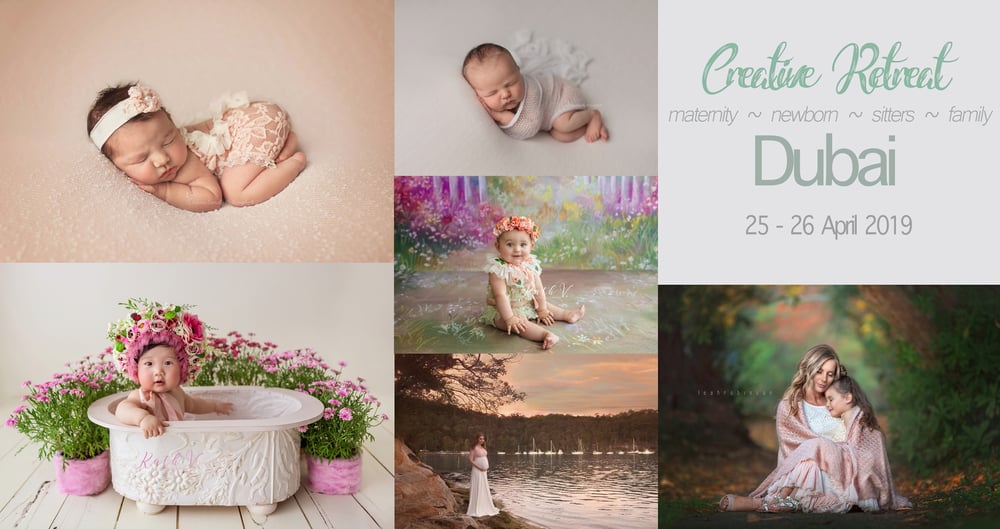 SOLD OUT!!!
THIS IS A UNIQUE OPPORTUNITY TO LEARN FROM 3 WORLD-RENOWNED INSTRUCTORS, IN ONE, COMPREHENSIVE WORKSHOP
This is the DEPOSIT PRICE ONLY.
Full price of workshop is $1900 USD.
Join Rebecca, Kath and Leah for the Family Photographer's Creative Retreat. Set over two days we will cover four of the key subject areas that form part of every Family Photography Studio – Maternity, Newborns, Sitters and Family. We will work through each stage of the photography shoot – including set-up, posing, prop selection, styling and post-processing. We will cover both studio lighting (for the newborn session) and natural lighting (for the sitters and outdoor shoots). You will receive hands-on assistance to perfect your SOOC image, including camera settings, white balance adjustments, lighting choices and shooting angles. The photos taken on the day can be used for your own portfolio.
Take the time to invest in YOU – the Creative Retreat will be 2 full days filled with fun, learning, friendship and the BOOST that you need to take your business to the next level.
*Not open to photographers that already teach photography workshops or provide photography-related mentoring (including on-line mentoring/workshops).
SCHEDULE
Day 1:
8:00am - 8:45am: Arrival, Welcome & Introduction
8:45am - 9:30am: Studio Lighting & Technical Overview
9:30am – 12:30pm: Group A: Newborn Posing/Lighting with Rebecca
9:30am – 12:30pm: Group B: Sitters Posing/Lighting with Kath
12:30pm – 1:15pm: Lunch (all together)
1:15pm – 2:15pm: Photoshop Editing, Sitters – with Kath
2:15pm – 2:45pm: Introduction to Outdoor Portraits with Leah
3:00pm – 5:00pm: Outdoor Family Shoot with Leah (Location 1)
Day 2:
8:45am – 9:45am: Photoshop Editing, Newborns – with Rebecca
9:45am – 12:45pm: Group B: Newborn Posing/Lighting with Rebecca
9:45am – 12:45pm: Group A: Sitters Posing/Lighting with Kath
12:45pm – 1:30pm: Lunch (all together)
1:30pm – 3:00pm: Photoshop Editing, Children/Family – with Leah
3:00pm – 5:00pm: Outdoor Maternity Shoot (Location 2)
** the schedule for the workshop is subject to final confirmation and some changes may be made.
PRICE
The price for the Creative Retreat is $1900 USD. Payment is via the following installments:
* The non-refundable deposit of $550 (payable upon registration).
* Second installment payment of $600 due 1 November 2018.
* Final installment of $750 due 1 March 2019 (the Early Booking Discount will be deducted off the final installment payment, if applicable).
INCLUSIONS
All workshop attendees will receive an electronic copy of Rebecca's 30 page 'Posing Guide Book' covering 16 different poses! With extra tips and tricks, this Posing Guide will help you remember everything you learn at the newborn sessions at the Creative Retreat! After the workshop, you will also be added to our private Facebook Group for Creative Retreat workshop attendees - this group provides on-going support, critique and tutorials to help you on your photography journey.
We will provide lunch, snacks, drinks, tea and coffee for both days.
*** minimum numbers required for the workshop to go ahead
SOLD OUT!!
Share